Anatomy of a Ukrainian dating scammer or just another message…
Dear friends,
almost everyday, I look for new dating information online (because my biggest aim is to offer you practical and beneficial dating advice and tips:)). Sometimes I find really interesting and curious reports and experiences which could be very useful for you.
Today, I would like to present a review of a Western man who has used a dating site for searching a woman from Ukraine and Russia. The man received a nice message from a good looking Ukrainian lady on a dating site that he had sent an expression of interest. "This is nothing special", you can say…
We have to mention here that the man did not write a message, he just showed interest in hope that the woman would reply him by showing interest. After that, the man gave the lady his email address; therefore they could be in touch directly rather than via the dating site.
The most interesting thing in this "average" dating story begins here. The woman afterward sent the man a very fine message with some gorgeous pictures. The dilemma is that the man has seen this exact same mail from two or three other Ukrainian and Russian ladies.
Of course, the man immediately had a suspicion that he has been dealing with a dating scammer. In his and my opinion, this is unlikely that Ukrainian and Russian women on the dating site have used a template on what to write to Western men.
The man decided to share the letter from this woman with the other men. He did not publish her pictures because he did not know if they were genuine or if they have been hijacked.
Here are the letters from the woman:
Message #1:
Message #2: she sent this letter to the man just two days later when he had yet to respond: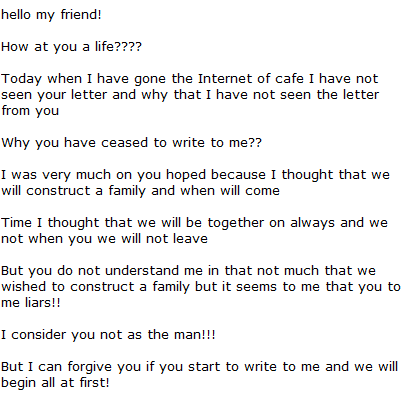 As for me, this message is absolutely a dating scam. A genuine woman looking for love and relationship abroad wouldn't declare constructing a family without communication and particularly meetings in person.
Message #3: "I love you!":
Do not waste your time for dealing with such messages! I am sure that this scammer sends the same letters to 100 other lonely Western men hoping to find a special woman from Ukraine online. No real woman from Ukraine would write these messages without any participation from the man.
(Review Source: http://russianmeetingplace.com/forums/showthread.php?t=17550&page=1&pp=15)
Questions? Feel free to ask Krystyna, your Ukrainian dating expert 🙂 (s. here: Contact Krystyna)
Love,