Lesja Ukrainka, One of the Great Ukrainian Writers
Dear friends,
Today, I tell you about Lesja Ukrainka, one of the most outstanding figures in the Ukrainian culture and literature and greatest patriotic heroes of her time. Moreover, there is no doubt that she was one of the most famous Ukrainian poets.
Born Larysa Kosach, in 1871, her father, Olha Drahomanova-Kosach was a well-educated man with non-Ukrainian roots. Still, her father was devoted to advancing the causes of the Ukrainian culture. He financially supported the publishing ventures of various Ukrainian writers and poets. Her mother was a writer who published poems and stories for children in Ukrainian under the pseudonym Olena Pchilka. I have to say that the girl was very educated as well and could speak several foreign languages in addition to her native Ukrainian. She learned Russian, Bulgarian, German, Polish, Latin, Greek, French, Italian, and English.
Larysa started her writing career at an early age. She began writing poetry when she was nine-years old. Her first poem was published when the child was thirteen years of age under the pseudonym of Lesya Ukrainka.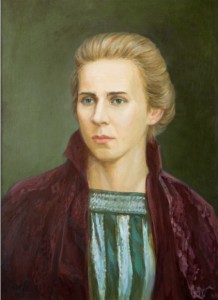 As a child she was an avid writer as well as a gifted pianist. Her piano playing came to an end when she was twelve years of age. She was suddenly struck with tuberculosis of the bone. This painful, debilitating disease resulted in her not being able to use her fingers to play the piano, due to the pain. The disability remained with her throughout her lifetime until she died in 1913.
Lesya saw her first collection of poetry published in 1893. The collection, "Na krylakh pisen' ('On Wings of Songs') was followed by 'The Book of Songs' one year later. Since all Ukrainian publications were banned in the Russian Empire both books were published in Western Ukraine. They were then smuggled into Kyiv.
In addition to her lyrical poetry, Lesja Ukrainka wrote epic poems, prose dramas, prose, several articles of literary criticism, and a number of sociopolitical essays. It was her dramatic poems, however, written in the form of pithy, philosophical dialogues, that were to be her greatest legacy to Ukrainian literature. Lesja Ukrainka's poems combine her belief in freedom and self-determination for Ukraine with philosophical ideas and a lyrical relationship with nature and with the people she loved.
Due to her disability Lesya lived in many different countries during her lifetime in an attempt to find the best climate to deal with her disability. This allowed her to become aware of many different people and their cultures. This resulted in her incorporating her impressions into her writings.
In 1901 Lesya lost her soul mate, Serhiy Merzhynsky. In one night, at his deathbed, she managed to write an entire dramatic poem, 'Oderzhyma' ('The Possessed').
Six years later the writer married a family friend, Klyment Kvitka. Her second husband was a musicologist and ethnographer. Klyment transcribed most of the Ukrainian folk songs that Lesya knew during her childhood. These were later published.
When she was just at the young age of 42, Lesya passed away. Even though she was young she still left behind a very rich literary legacy.
In conclusion, two videos with Lesja Ukrainka's songs (in Ukrainian):
(1) Без надії сподіваюсь ("Hope against hope")
(2) Вечiрня година ("Evening time")
Questions?
Feel free to ask Krystyna, your Ukrainian dating expert 🙂
(s. here:
Contact Krystyna
)
Love,