Tips how to use VKontakte.ru to find a Ukrainian woman for life
Dear friends,
I am pretty sure that you have heard a lot of things about VKontakte.ru (VK.com) and are wondering if it is possible to use this social network for looking a Ukrainian lady for marriage.
If you have never heard about VK.com, you should know that VK is the largest Russian (rather FUS) social network with more than a 100 million active users. This site is not like a traditional dating site but offers a great chance to meet a special lady for life (of course, completely for free 😉 ).
Before we discuss tips how to use VKontakte.ru for looking for a match from Ukraine, I would like to explain some essential disadvantages.
VK.com is not a dating site – that means not every woman registered on this site has intentions to find a Western man and move to another country. Thus you need really tons of time to find a Ukrainian woman who is willing to start a communication with a foreigner and is not against cross-cultural relationships.
Consequently, the "no reply" rate is really very high. But do not despair!!! 🙂 If you show endurance and patience, you will surely find your destiny there.
Language barriers may be another huge disadvantage of using Vkontakte.ru. Not every girl on VK can speak a foreign language. Furthermore, not every girl on VK can speak English, although this language is a lingua franca over the world. Not every girl on VK wants to communicate in a foreign language although she can speak it.
Despite of these huge disadvantages, I am sure that this is really thinkable to meet a gorgeous Ukrainian woman for life on VK.com.
Dating a Ukrainian & Russian Lady: Pros & Cons (Video by Krystyna)
You have just to follow my simple step-by-step VK guide.
Register on http://vk.com/
Fill out the profile (e.g. favorite music & books, hobby, etc.). Remember – you wish to find a Ukrainian woman for life. Thus your profile must be interesting, humorous and extraordinary. Use nice but serious photos (no nude or drunk pics)
After having filled out your profile you can start out your search. VKontakte has an extraordinarily detailed user search function, namely: you can filter by city, age, relationship status, or what a user finds "important in others".

Then you can send a message to the woman you are interested in. My tip is not to write ordinary and boring messages like "you are so pretty!" or "nice to meet! I am John from America!". Be creative. Write something witty and unusual to get the woman's attention. I have heard that a lot of beautiful girls get messages from foreigners (commonly from Muslim countries) that are very unexciting. Such messages are consequently ignored by the Ukrainian women.
Be polite and do not tell immediately that you are looking for a woman from Ukraine to get married her. Ukrainian men do not write "looking for a wife" messages, so you do not, as well. The key purpose is always communication and friendship (hoping to find a woman for life ;)). My tip here is to start out very slowly and delicately.

VK is a RUSSIAN social media site. Thus do not forget that the users will communicate in Russian, not in English or another foreign language. I would advise you therefore to write your first message in Russian.
Google Translator is a beneficial tool to translate your messages into Russian.  Of course, it's not perfect; nevertheless the girl gets the meaning of what you are saying without any problems. If the girl is open for your communication you can ask her later if she does not mind to communicate in English.
If you go to one of numerous groups dedicated to foreign languages or foreign countries/cultures, there will be a great number of single, young, and good-looking ladies from Ukraine and Russia, and your success rate to meet a match on VK will be considerably higher than writing messages to the women found by the user search function.
4 things to remember:
Do not write messages to the women who claim that they are in a relationship already. Respect their private life!

No idea how to write messages to Russian and Ukrainian women? Learn more in my articles: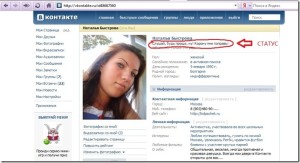 If the Ukrainian women say "no" or don't reply, leave them alone and never bother them again on VK.com.
Your profile is one of the keys to success, thus make big efforts to fill out it completely and install nice pictures. If your profile is empty and offers no personal information, the women may guess that you are a scammer and fake.
VK.com is a great occasion to authorize legitimacy and sincerity of the women with whom you communicate on a dating site. You are wondering how to use this social site for these goals? Very easy!
Surely, you know this awful feeling, namely: your communication with a Ukrainian woman on a dating site is going perfect but you have still doubts because in your opinion, everything is too perfect and you are scared to get scammed. You can find this woman on VK.com and write to her a greeting message how you are happy to find her there. If the woman does not respond you and claims that she does not know you, your doubts were not in vain.
Don't forget being careful! From my personal experience, I can say you that there are no professional dating scammers like on International dating sites; nonetheless, this statement does not mean that you will not become a victim of fraud.
Some girls may think that it could be really nice and not bad to ask the Western man for money (you know – Internet fees, debts, credits, etc.). My simple but wise advice is not to send money to the woman you have never met in person.
In conclusion, DarkMatter tells about his VKontakte.ru experience:
Hi all! 

I decided to try VKontakte.ru a few days ago. It looks exactly like facebook, however, one of the things I noticed some people actually post porn pictures.  Facebook does not allow that. I practically copy and pasted my information from facebook onto this website.

I joined all the *English Speaking* groups to see if I can actually meet some people, and whats funny is I got some people from various parts of the FSU, heck even Africa wanting to talk to me. I put them on my friends list and the fun began.

I had one girl named Darya from Серпухов start talking to me. She started asking me questions on my background and other aspects on my life. We started corresponding for the last couple days, and she asks me if she wanted to speak to me on skype. 

I agree, and this past morning I spoke to her on skype for over an hour telling me her dreams and what she wants to do in life, and I also tell her mine as well. What's funny is she would say cute phrases like, "Is my English ok Joshua?" or "Yes yes Joshua I understand that very well." or "Can you understand my accent?"  One thing I notice she seems really mature, and well informed.

She tells me she has read various books from Gone with the Wind, Great Gatsby, etc. I had to redirect the topic at certain times because I had no answer, and I didn't want to look stupid.  As of right now, I'm not going to jump the gun and try to get into a relationship, however, this is a great start. She didn't ask me if I had a girlfriend and I didn't ask her if she had a boyfriend, as time passes I'll ask.

At the same time, I have another girl from Kazakhstan trying also talk to me. We'll see how that happens.

I've noticed this website mainly caters to people under 27, which is fine because I'm in this age category! 

Some of the people actually post their phone numbers AND their addresses. Too bad I can't read them, wait scratch that, I can read it, but I don't understand it! 

We'll see how this progresses!  8)
Source: http://ruadventures.com/forum/index.php?PHPSESSID=afa11f18b2879d4a7f8025b6cb502e4c&topic=7040.msg101872;highlight=vkontakte#msg101872
High recommended reading:
How American Men Are Using the Russian Facebook to Find Brides by Adrian Chen
to read more CLICK HERE
Learn more about how to date and marry a Ukrainian woman in the following ebooks:
Questions?
Feel free to ask Krystyna, your Ukrainian dating expert 🙂
(s. here:
Contact Krystyna
)
Love,
Sharing is caring. I would greatly appreciate it if you share my post with your social network!