Irina, a woman from Kiev/Ukraine
Krystyna presents: Irina, a beautiful Ukrainian bride for marriage
Irina is every mans' fantasy come to life, the absolute definition of Ukrainian grace and charm. Her delicate features and luscious, dirty blond locks are truly mesmerizing. Irina loves to accent her angelic beauty with dazzling jewelry and shiny lip gloss, which never fail to impress. A word of caution: it may be impossible to say no to her large, puppy dog eyes and innocent expression.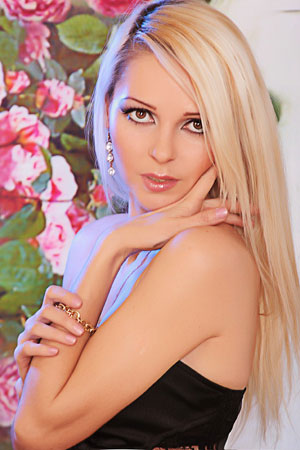 Men in Kiev, where she lives, can be intimidated by her confidence and sensuality; but she doesn't judge a person simply by their appearance, she finds an intelligent man who is well traveled to be completely irresistible – no matter what he looks like. Finding a partner who knows how to treat her with respect and dignity is the most important thing on her list.
What a man is Irina looking for?
One of her life goals is to find a confident man that she will travel the world with, learning about many different cultures and their history together. Her principle interests, of this 32 year old crackerjack, are modern fashion and style, she often dreams up fabulous new apparel while at work as a seamstress. In her free time, she enjoys taking photographs of interesting places around Kiev, she also enjoys cooking for her friends and family, and has developed quite a skill.
Most of all, Irina wants to be with someone who has purpose direction. She hopes to live a fulfilling life full of adventure and passion with someone who she finds smart and sexy. Getting to know Irina will be an adventure all in itself, she has boundless energy and will keep you on your toes. She is guaranteed to put you to the test and find out if you are the kind of man who can handle being in a relationship with such a lively and breathtaking woman.
Will you, dear men, meet a beautiful Ukrainian woman for marriage Irina?
Questions? Feel free to ask Krystyna, your Ukrainian dating expert 🙂 (s. here: Contact Krystyna)
Love,