Interview with the Ukrainian Fiancée Marriage Agency (Part 2)
Dear friends,
today we continue our interview with Sergey Sokolov, a co-founder and manager of the UFMA agency (Ukrainian Fiancée Marriage Agency), based in Kharkov, Ukraine. You can read the first part of this Ukrainian dating interview here.
In the second part of the interview, Sergey tells us about why Ukrainian women are really looking for a man abroad, possible future of the International dating and marriage industry as well as gives you some intercultual dating tips that will transform your Ukrainian dating adventure.
Krystyna: It is said that Ukrainian women looking for a Western husband are basically looking only for a Green Card and money. Would you agree with this statement based on your dating and matchmaking experience?
Sergey: In any marriage it's very important it there are two people with the common plans about the future and common outlook there.
And this shows the level of the work of a matchmaker – to help such people meet, to connect them into a union.
Here I can't judge just from one side that Ukrainian women or Russian brides are materialistic and American men, for example, will carry women in their hands and do all she wants and behave like perfect husbands. There is such a saying: "they don't go away from good".
And if a woman feels good in a marriage, why would she get a Green Card and run away from a husband, with whom she has a harmonious relationship?
Of course there are women who do this for the passports, but I wouldn't say that people massively want to invest years of their lives to get the passport of a country, which they don't know about and where they've never been.
Yes, we also have a couple of divorces among our couples. There can't be a 100% guarantee of a marriage. People are changing, life is changing. But the key values, the respect to each other, the common plans for the future, the kids – this all holds the marriage. You need to have this in your marriage and everything will be fine. As Russian brides also want to realize themselves as women, mothers and good wives near good men.
We had the marriages happening when a woman had more money or more stability in life than a man, for example a woman had own apartment, a car, a good job. And a man lost his job, had debts. But they still got married and now live fine. She also works and provides for the family. And I am sure she makes more than him as she is a doctor-neurologyst. Money is important, but they are not main, you can't buy love for money, that's for sure.
Video testimonial:
I have written an eBook some time ago, where I describe the key values and needs of a woman in a relationship and marriage. Who is interested, please contact me, I will send you this little book. I am married myself and find the common ground with my wife well, so I can say that I know what I am talking about not just from theory :))
Building relationships is a separate topic and once again, each relationship is unique and if there are some questions rising, our couples get back to us even after wedding and we help to overcome some cultural or language barriers. Relationships are like a job and you constantly need to think and work on their development. And your spouse too, of course.
Krystyna: How would you describe your male customers? How serious do they consider intercultural differences in Ukrainian dating and dating Ukrainian women? What is one of the most frequent mistakes Western men make in Ukrainian dating?
Sergey: Approximately 50% of our male clients are from the USA and another 50% are from the other countries. I've seen people from huge cities and small towns and villages, people from all parts of the world. And I can say that all of us, no matter where we are from, have same core needs – for respect, love and support.
Only the approaches to the search of this differ from person to person. Someone easily finds the common ground with people and finds it easy to communicate. Another one is more of an introvert and it's hard for him to keep up the conversation and to relax.
We try to help all kinds of people and we do help them. I still often join them at the meetings myself, especially to the first ones, so people could feel themselves comfortable and start to communicate easily.
I have one more eBook that I can share. It describes well the Ukrainian mentality and the dating tips. You can download it from our website for free after you sign up. There I tell how to easier win a heart of a Ukrainian woman.
Yes, western men often believe in the myths about women here. They think that people are different here. But the world is so globalized already that people are very similar everywhere.
The big plus is that the Ukrainian and Russian women are really very beautiful, they take good care about themselves. Like you, Krystyna, for example :))
And you can really find here a woman who is 10-15-20 years younger. This is true. But some men, for example, having not very high life standards, are looking for a girl with a high status, good education, model looks and 20-30 years younger.
Like in any place in the world, this is not possible. There's high competition for such ladies everywhere. Make your demands more realistic, look for the normal good looking ladies. They are better for the family and for the relationships. Don't look for the models.
I also don't recommend the age difference of more than 20 years. It will be a difference of generations; it will be harder to find the common ground. Below 20 years the age difference is acceptable, Ukrainian women are very mature for their age.
Testimonial: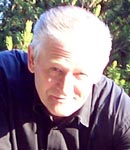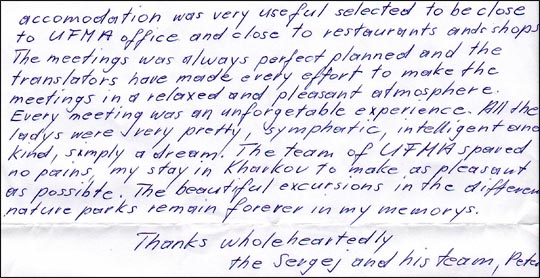 There's also a category of men, who come here not mainly in a search of a bride, but like on a vacation, to take some rest, to hang out. And they start to drink, in the day time they come to our office to meet the ladies and at night they go to the clubs and bars. In Kharkov there are plenty of them and the prices for alcohol in comparison to Europe are funny.
Of course it's not welcome to arrive at a meeting with a crumpled face and yesterdays' fume. We even wrote in our Meetings Agreement that it's not allowed to come drunk to the meetings, because people do relax well on vacations and this is not rare :))
I recommend men to behave themselves respectfully, like gentlemen, define their needs and then everything will work out pretty well.
Krystyna: The Ukrainian-Western dating and marriage industry has been in existence for over 20 years. The agency and dating companies have experienced a lot of changes and transformations, e.g. mobile dating, scam strategy development and improvement as well as strong competition.
Additionally, I would say that Ukrainian brides have also changed over the past 20 years. They are no typical "mail order brides" anymore but modern successful and confident women. What are your ideas on the future of this industry? Do you believe, there would be still a requirement for Ukrainian-Western dating in 5-10 years?
Sergey: I am in this industry for about 12 years now and I can say that yes, with the development of Facebook, social networks, messengers and such things the industry is changing, becoming more dynamic and fast. But again, which industry's niche are we talking about?
If it's dating, communication, socializing, common journeys – then yes, there must be speed, there must be emotions here.
If we are talking about the communication for serious relationships, then there is no need to be in a hurry here, you need to learn a person better, if you are going to spend you life with him. You need to build trust and trust requires time. We give good value, good result to our clients. Many men recommend us to their friends and they recommend to theirs.
The value of a business is shown in if it covers the needs of the clients. We do cover them and our experience and quality of work are only growing, therefore we are not afraid of competition. And we are not chasing the big money turnovers too. We just won't handle them, we don't have enough time and working hands for this :))
Video testimonial:
I think that the core needs of a human for love, care and a close person nearby will never change, no matter what new gadgets or services are invented.
From the point of view of the Ukrainian women and Russian brides, the situation is that many women here are looking for love abroad because there are not enough men in Ukraine, so our women will still be searching for the men abroad, this is inevitable.
And in many countries, like Australia, New Zealand and some European countries there's a lack of women. So this process will continue always and those who want to find a pretty looking and caring woman for serious relationships and family will be coming to us.
And if you want to minimize the risks and receive an outstanding service and support, come to Ukrainian Fiancee Marriage Agency (UFMA) and I will help you from all my heart.
Krystyna: Which Ukrainian (intercultural) dating tips do you have for Western men?
Sergey: There are very many tips in my eBooks and the book of Thom, which you can download free from our website.
There are several universal advices that, depending on my experience, do work well:
Behave like a gentleman at the meetings – let the lady first, smile, be nice, open the door in front of her – our ladies adore this;
Don't talk about money, that something is expensive, that someone makes that much money – this is considered not the best topic between a man and a woman; they don't like to listen about this. Be positive in your speech, don't talk about hardships and bad things;
Bring with you some little souvenirs from your country, our ladies like such small signs of attention. These should be small things – like a bottle of maple syrup from Canada or a box of sweets from Belgium – this will be like a sign and a memory about a meeting;
Define well what kind of woman you want to meet, which qualities you need her to have – for example, understanding, support, good appearance. And then compare with your perfect image. As it often happens that a man doesn't know at all who he is looking for. Or he knows what he DOESN'T want, but he misses what he wants and it makes it hard to help him;
Decide how you want to develop your relationship. Say you've come to Ukraine, met a woman, you liked each other. And what next? How will you develop the relationship further?
Many, even the majority of men have no plan about what they want to do next. Think and imagine – do you want a woman to come to you later? Do you want to come to her? Do you want to go on vacation together? How soon do you want to start the Fiancée Visa? Estimate how much this costs, if you have time and resources for this.
If you need help, write to me, I will use my expertise to help you define the plan.
Krystyna: Anything else you'd like to share with the Ukrainian dating blog readers?
Sergey: To tell the truth, Krystyna, I have lots of information in stock after all the years at this job. I am planning to create a YouTube channel too and upload videos about Ukrainian dating. Because you can tell really much about this. By the way, we already have our corporate blog where we have tons of articles and stories.
So, if you want to find a woman from Russia or Ukraine, you have three ways in front:
You can do everything on your own via social networks and free websites;
You can come to big agencies, where they have many women, but not much support;
Or you can come to a small dating bureau, like the Ukrainian Fiancee Marriage Agency (UFMA), where there are not so many women, but there is a person like me, who will quickly lead you to the relationships and introduce to serious and genuine women and minimize your risks to save your time and money.
So, write to me, come to the UFMA website. I will be glad to help you and share tons of useful info on all the steps of the way. And I will find you a woman of your dreams!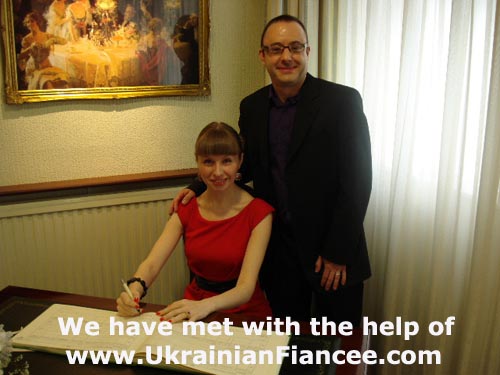 Krystyna: Thanks so much to Sergey for giving us such thoughtful and practical answers. I am sure information will be useful to everybody looking for a woman from Ukraine. Good luck! 🙂
Questions?
Feel free to ask Krystyna, your Ukrainian dating expert 🙂
(s. here:
Contact Krystyna
)
Love,
Sharing is caring. I would greatly appreciate it if you share my post with your social network!