The 6 Most Important Unwritten Rules of Ukrainian Online Dating
Dear friends,
Online international dating has become more sophisticated and challenging. Men who expect to just post a picture and a short bio to get the attention of Russian and Ukrainian brides will be disappointed.
What has changed? You would like to ask me…
Russian and Ukrainian women have become more internet savvy and they are looking for dating profiles that stand out and impress. If you want to attract excellent, family-oriented and gentle women from Russia or Ukraine, there are some things you can do to enhance your chances.
Western men who are crafting an online profile need to remember that these are real ladies with needs and demands of their own. If you are looking for the perfect match without taking the time to get to know someone, you will be disillusioned.
Unwritten rule #1: Be self-confident, but not arrogant
All women, especially Russian and Ukrainian women, find the confidence to be very appealing. However, you must be careful not to cross the line from confidence to arrogant. It is a good idea to present your positive qualities with assurance but once you begin boasting about your conquests or just material things, you come off sounding pretentious.
Unwritten rule #2: Online dating is not only about you
Russian and Ukrainian women, like all others, want to find someone who is not self-absorbed. If you only write about yourself and boast of your accomplishments, she may wonder if you are even interested in her at all.
Women need to be treasured and you must show interest in her life and her needs, as well as your own. When you begin talking to your match, you should ask open-ended questions that give her the opportunity to elaborate about herself and her life.
Related articles on dating Ukrainian and Russian women: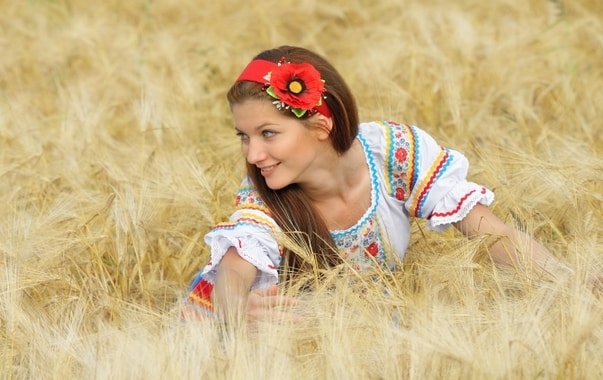 Unwritten rule #3: Be positive, don't generalize
Profiles need to be positive and funny. Don't discuss past relationships or generalize about "all women from Russia and Ukraine".
No one wants to date someone who has a bad attitude. No one wants to hear about the problems of past relationships because this shows you may not have moved on to be ready for a new relationship.
Unwritten rule #4: Put attention to your profile pictures
Also, make sure you have some profile pictures from different places. You need to display pictures that show you having fun and being active. Remember that your profile and pictures are the first impressions you give others.
Unwritten rule #5: Only realistic expectations matter
When you are writing in your profile about the qualities for the woman you seek don't have unrealistic expectations. If you write about a beautiful, 5'3 to 5'5 tall woman with a certain level of education and a certain color of hair you are limiting your possible matches and you are off-putting to many women who read your profile.
Attraction and chemistry come in many different sizes and shapes so you should give yourself the broadest chance of finding the right person. Keep an open mind as you begin the process of meeting Russian and Ukrainian ladies.
Unwritten rule #6: Plan your trip to Ukraine quickly, or stop emailing
Another tip to keep in mind is that you cannot expect to just email or be pen-pals for long periods of time. Russian and Ukrainian ladies want to know you are serious about meeting. If you cannot follow up emails with a visit to Russia / Ukraine in a reasonable time, it is better to wait.
Of course, you do need time to learn things about one another but the truly only way to know if there is chemistry is by planning a visit that allows you to spend time with your match. She must know that you are not just wasting her time.
Unwritten rule #7: Call the Russian girl the next day
There are some other stereotypes you need to avoid. It is not wise to avoid calling your date the next day so that you don't seem desperate. Women today don't fall for the "hard to get" routine.
If you had a nice time with your Russian and Ukrainian date, you should call her right away and let her know.
Unwritten rule #8: Do not split the bill
Also, don't fall for the mistaken idea that Russian women will be easy targets for cheap dates. As the man, you should pay for all of the dates, whether your match is wealthy or not.
It is really an unwritten rule: A Russian and Ukrainian girl expects you to pay for everything on your date. Despite that by now there are educated and career-oriented women in Russia and Ukraine with respectable income and they can pay for their expenses. The issue is that majority of them regards a man not only as a partner, but also as a breadwinner/provider.
So, while the rule of Russian and Ukrainian online dating may have changed some – the ultimate goal is still the same. You want to meet a wonderful Russian and Ukrainian girl who will become an exciting part of your life.
A relationship that lasts will take hard work beginning with an exciting profile and following through with visits to meet your match and get to know her. If you follow these guidelines, you have a chance to meet the Russian / Ukrainian girl of your dreams.
Guys, have you gained experience with dating Ukrainian or Russian women? Please share your experience below.
Many thanks in advance! Спасибо! Spasibo! Дякую!
Learn more about how to date and marry a Ukrainian woman in the following ebooks:
About the author: Krystyna is a Russian and Ukrainian dating blogger and writer. Here you find more than 500 articles on dating Russian and Ukrainian ladies. In her regularly updated blog posts, Krys has shown a keen eye for online dating issues, dating scam and cross-cultural relationships.
Questions? Feel free to ask Krystyna, your Ukrainian dating expert 🙂 (s. here: Contact Krystyna)
Love,
Krystyna,
Ukrainian Dating Blogger
Sharing is caring. I would greatly appreciate it if you share my post with your social network!