Dear friends,
Have you been on the receiving end of a romance scam? Or know someone who has? 
You know the kind scam, right?  
You sign up for online dating and create a stunning profile so women or men would be interested. You start chatting and connecting. You think you've finally found Mr or Ms Perfect because the person ticks all of your boxes of what you want for an ideal partner. 
Once you're in love and have given this person your trust, BAM! They've disappeared because they got what they wanted: enough information about you. And now you don't have an identity anymore (that is, it's been stolen). 
As an online dating and relationship expert, I do my part when I review online dating sites and give you information to help you stay out of trouble. Unfortunately, scammers get smarter and smarter by the day, so you always need to be careful and on the lookout. 
Let's get into what a dating scam is, what are the main types of Ukrainian and Russian dating scams, and what you need to do if you've been scammed. 
Reasons Why You Can Trust Krystyna
A dating scam is also called a romance scam, online dating scam, or romance fraud. These scams usually happen when you've joined an online dating platform and connected with someone you like. It can also be a person you've been matched to.
You become invested in the relationship, all the while the other person isn't real – they aren't who they say they are because they are a scammer. A scammer's profile is usually fake, but it can look real enough to draw you in.
Apart from your love interest who may be a scammer, some online dating platforms are scams (not legit sites) or they run various scams to con people like you out of your money.
Being scammed under any circumstances is cruel, but romance fraud takes it to a whole new level. Your emotions are involved. And scammers usually prey on those who are vulnerable or whom they see as "weak."  
Facts and statistics of romance scams
Here are some interesting facts and statistics on romance scams:
4 main types of Russian dating scams
There are various types of online dating scams doing the rounds, but here are the 4 main types of Russian or Ukrainian dating scams you should be aware of: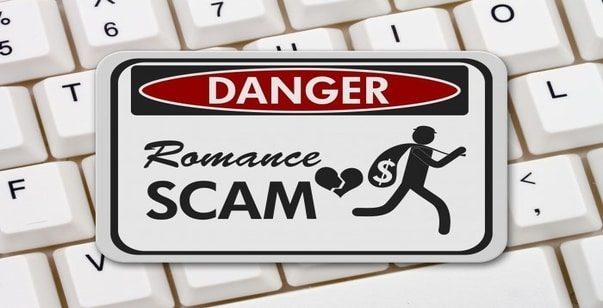 Pay per letter scams is one of the worst kinds of romance scams as the dating site or dating operators aren't legit. And unfortunately, some Ukrainian and Russian dating platforms only work in a pay per letter way. 
On pay per letter or paid chat dating sites, you need to pay to communicate with beautiful women. The scary part is that this request for payment comes the minute you've signed up. With no profile, photo, and other information about you, people already want to connect and chat.
You need to pay for every photo share, message, letter, or chat, and you can't exchange contact information so the "ladies" can reach out on "free" platforms like email. Except the ladies (who may be men, coz how'd you know?) may be scamming and aren't even "real." 
Fake Profiles & Asking for Money
The other kind of online dating scam that's quite popular on Russian and Ukrainian dating platforms is when the ladies – or men – create fake profiles.
A fake profile is one that is designed to catfish you or lure you in. These scam artists are proficient in getting you to trust them and fall in love with them. With the use of strong emotions, loving words, sharing, and gifts, they catfish you – hook, line, and sinker. 
And because you trust "your soulmate," you don't think twice about sending money when the scammer asks or sharing a load of too-personal info with them. The scam artist may even ask you to share personal, intimate photos or videos of yourself, which may be used as blackmail.
You may be asked to send money via a wire transfer or buy cryptocurrency, send gift cards, and more.
The scammer comes up with creative ways to get you to depart from your hard-earned money, from them wanting to come visit you but can't afford it or having been mugged to needing to pay their taxes. Because you believe you love them, you'll help them out.
The pro-dater scam is more immoral than it is illegal. A pro-dater is a real person who wants to meet you in person, and they often use their real information.
They don't typically request money before they've met you in person, but after meeting face-to-face, they'll continue to milk or harass you for money. A pro-dater will "date" you for the sole purpose of getting you to pay for gifts, send them money, buy travel tickets and holidays, etc.
Pro-daters aren't interested in dating you – they simply use that as a means to get what they want, and sex isn't off the table either.
There are usually other accomplices involved in the pro-dater's scheme. A taxi driver or interpreter – all these people need to be paid at an exorbitant cost by you – the victim of this scam.
The whole scheme is pre-planned, too. As the "wealthy" foreigner, you pay for everything, but everything is the expensive kind – fancy restaurants, 5 star hotels, pricey gifts, and more.
Translation agencies are another type of scam in the online dating world. There are a few scenarios to how these scams work:
A Russian or Ukrainian lady starts chatting with you and sends you some messages or letters.
You then receive an email or message saying that the "lady" paid for the translation service so she could communicate with you, but unfortunately, she can't afford to pay for these translated messages any longer.
So if you want to continue communicating with her, you need to pay for the translation of messages. 
The agency even includes a link or details to how you can pay.
The lady and the translation agency are the same person – aka the same scammer.
Another version of a translation agency scam is that you get a message from a translation agency that encourages you to use their services and pay them for these.
The translation agency doesn't work through the site that you registered on, so this is how you can tell it's a scam. 
From my experience as a Ukrainian dating blogger, I have to mention that some Western men want to get scammed. They do the same mistakes (e.g. sending money to the translation agencies or to the women because of the emergencies in Ukraine). 
How to avoid getting scammed?
Guys, just follow my advice:
Don't assume everything you see or you are being told is real and factual.
The scammers will "fall in love" with you within a few emails. Don't rush into anything.
Ensure you are using a legitimate, trustworthy dating site. There are many "fly by night" operations floating around on the internet just waiting for potential victims.
Precaution and skepticism are important.
Common sense is a very useful tool in detection.
A potential victim is full of fantasies not reality.
Question anything that is too good to be true.
Do research on Russian and Ukrainian women and culture.
Here are a several tips to keep in mind: It is highly unlikely that women or men who look like models will be posting on dating sites so skip anything with glamorous and perfect-looking people. Few people look like models, and nine out of ten, they are already in romantic relationships.
Do not form any association with people who ask you for your e-mail and residential address or your cell phone number through the Russian dating website no matter how much the potential victim likes her. Sooner or later, the scammers will find a way to worm their way to the victim's affections until the victim becomes attached that he or she sends money and provides intimate information for targeting.
They will keep bombarding their victim with attention. Remember, some of these scammers are part of organized crime. They know how to manipulate their victim by profiling based on the things that the victim writes about himself.
For examples, if the victim writes that he loves animals, the scammer will use that to gain the victim's trust.
What to do if you got scammed online?
Did you get scammed? If yes, what do you do now? If your friend has been scammed, share this information with them.
Usually, victims of romance fraud are more devastated because the romance or relationship they perceived to be real and invested in ended than for any financial loss they suffered. 
Follow these steps if you've been the victim of an online dating scam:
If you've paid the romance scammer via debit or credit card, gift card, cryptocurrency, cash, money transfer via wire transfer or app:
You can also request a credit freeze to stop scammers from using your credit report in a fraudulent way. You can do this via Experian or another credit bureau.
If the scammer made an unauthorized transfer, contact your bank. Ask that they reverse the transaction.
If you've given the online dating scammer your personal information:
If the scammer has access to your phone or PC:
Report the romance scam to the FTC or similar institution in your country. You can also report a fake website and online scams to the Internet Crime Complaint Center.
If you are an American, report international scams to econsumer.gov.  
You need to discover superb overseas girls and feature an thrilling global courting adventure, however you do not know in which to start. Don't worry, we can help you!
☝️ Ask Krystyna
About the blogger:
Krystyna is an acclaimed international dating expert, blogger, and founder of Ukrainian Dating Blog. 
She has published over 1000 articles on international dating in English and German. She likes to focus on cross-cultural relationships, common or trending dating issues, and romance scams. 
The most popular Eastern European brides