Dear friends,
It feels difficult to find love these days, doesn't it? If you live in a small town, there just aren't many choices; in the big city, there are too many choices (or also not enough). 
What if I told you the world really is your oyster when you are ready to find your true love? And that your person may be on an international dating site, looking for you? 
Unfortunately, international dating sites have a bad rep. Some of it is true. There are many scammy sites, scammers, and shady dealings that you need to watch out for. 
But I've got the best international dating sites & apps for you. I want to help you find love, not send you to a site that isn't legit. 
So what international dating apps and websites should you try?    
Reasons Why You Can Trust Krystyna
Looking for love abroad? Do your research on international dating apps
If you are indeed looking for love abroad, doing your research on the international dating sites, apps, and services they offer is essential.
You don't want to sign up to a site or app that isn't legit, be concerned for your safety, deal with fakesters, and regret each click.
How do we select International dating sites?
Don't let the statistics above scare you. I simply want to make you aware of the dangers and reiterate how important it is to research sites and apps.
Plus, you gotta be careful when sharing information about yourself too. (You shouldn't lie to the other person, but don't share your home address or social security number with a complete stranger.) 
While you still need to watch out for scams and be careful whom you trust, at least you don't have to research the sites and apps too. I do all that so you can focus on your love life.
I select the best international dating sites based on their:
International sites you should try in 2022
Parship - Best for: Those looking to date German singles
A compatibility-based online dating platform, Parship has 11 million members in Europe. On this list of international dating sites you should try, Parship is the oldest – created in 2001.
The site brags about the 23,000 new members that join every week, or 90,000 new members joining every month. 
Top 3 services from Parship:
On Parship, you can do the following for free:
To start communicating with your "favorites," use the scan service and view photos, and more, you need to join the Premium membership program.
For a 3-month subscription, you'll pay GBP29.90/month (±US$39/month) or GBP89.70 (±US$117) in total. A 6-month membership is GBP119.40 (±US$156) in total, while a year subscription is GBP178.80 (±US$234) in total.
What we like about Parship
BE2 - Best for: those looking for matchmaking services in Europe
BE2 has been in the international dating niche for more than 15 years. They have more than 700,000 members all over the world, with the majority of members coming from European countries.
BE2 free services include account registration, profile creation, uploading of photos, see your daily matches, and browsing. If you want to send and read messages, view photo galleries, add members to your favorite list, and engage in picture voting, you need to join the Premium membership program.
You can sign up for 3-months and pay a total of US$173.85 (which is US$57.95/month). Or there is a 6-month subscription with a total cost of US$209.70 or a 12-month subscription for a total of US$383.40 (monthly cost of US$31.95).
Cuteonly - Best for: those looking for Slavic women
Cuteonly is another international dating site that's been in the biz since 2005. If you are looking for a "cute" lady, this is the site for you.
Top 3 services from Cuteonly
When you are ready to chat with your soulmate, sign up for the US$29.99/month subscription fee. Or opt for the 3-month or 6-month memberships, and pay less. 
What we like about Cuteonly
Loveme.com / A Foreign Affair - Best for: those looking for romantic tours
With more than 3 decades of a love and dating matchmaking agency, Loveme.com has a ton of experience. The site has lots of resources to help you find your perfect match.
Top 3 services from Loveme.com
Register for free on Loveme.com, and create your profile, search and browse profiles, and a match, and access your inbox at no cost. You can pay the normal fee for various services like a translated phone call, or get the Platinum membership at a one-off US$95 and recurring US$29.95/month for a discount fee on services. 
What we like about Loveme.com
Behappy2day.com - Best for: those looking for Russian women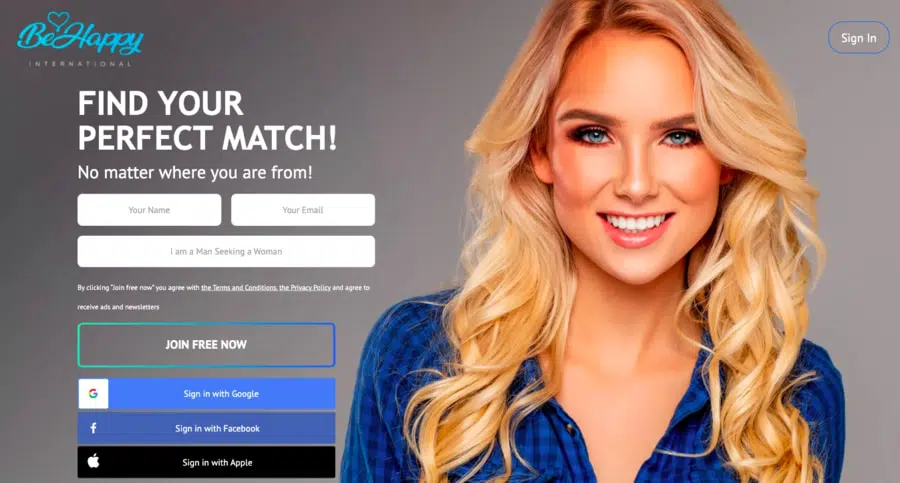 Top 3 services from Behappy2day.com
Behappy2day.com is free when you sign up, view profiles, read the news on the site, and get dating advice.
For anything else, you need to buy credits. A bundle of 20 credits costs US$14.99. With 20 credits, you can send your lady love flowers (15 credits) and have a 1 minute video chat with her (5 credits/minute). The biggest bundle, which is 1,000 credits, will cost you US$379.00.
What we like about Behappy2day.com
ChristianFilipina.com - Best for: those looking for sincere Christian single ladies from Asia
If you a Christian, looking for another Christian to be the love of your life, then ChristianFilipina.com is the right site for you. 
Top 3 services from ChristianFilipina.com
For free, you can sign up, set up your profile, browse and search, send winks, and reply to messages.
Then you can choose between three packages:
What do you get with these packages? You can live video chat, send custom messages and unlimited winks, and much more.
What we like about ChristianFilipina.com
Arablounge.com - Best for: those looking for dynamic Arab singles
Since 2002, Arablounge.com, which is part of World Singles Network, has been connecting Muslin and Arab singles. The company even boasts that it's made more than 8 million love connections. 
Top 3 services from Arablounge.com
For free, you can register your account, view profiles, browse, and send winks on Arablounge.com.
If you want to boost your profile's visibility in the search results, see who reads your message, want more detailed search options, send messages, and more, sign up for the Platinum Membership.
One month of Platinum Membership will cost you US$19.79/month. If you opt for a 3-month or 6-month membership, you'll pay less per month.
What we like about Arablounge.com
You need to discover superb overseas girls and feature an thrilling global courting adventure, however you do not know in which to start. Don't worry, we can help you!
☝️ Ask Krystyna
About the blogger:
Krystyna is an acclaimed international dating expert, blogger, and founder of Ukrainian Dating Blog. 
She has published over 1000 articles on international dating in English and German. She likes to focus on cross-cultural relationships, common or trending dating issues, and romance scams.