Dear Friends,
let me introduce you The Mordinson Marriage Agency!
If you're seeking your soul mate from Ukraine and hoping to be married in the near future, perhaps it's time to reach out for some help. Unlike many match making services, the Mordinson Agency is a family owned business that started operating in 1999. For more than ten years they have been successfully matching beautiful young educated Ukrainian women with bachelors from all over the world.
They are located in the college town of Kharkov, where most of their bachelorettes attended a college or a university. Having such a selection of educated young women, makes their agency unique because all their female clients are Ukrainian women of the highest caliber who live in one city.
The Focus & Philosophy of the Mordinson Agency
This Ukrainian women marriage agency is focused on helping marriage minded women find their male mates where ever in the world they might reside. They have helped Australian, American, German, Scottish men and many others meet, date and marry the women of their dreams from Ukraine. These couples have married and are living in wedded bliss after their correspondence advanced to dating and then marriage.

Professional Matchmaking Step by Step
Step 1: Introducing yourself to the ladies who caught your attention
The meeting process at the Mordinson Agency is very simple. First you go on the website and take a look at the pictures of the ladies presented in the gallery. You need to compose a list of the ladies who you are interested in and send it to the agency's e-mail along with your pictures and introduction letter. Here is another thing that makes Mordinson agency unique: they will translate and deliver your letter to the ladies absolutely FREE of charge and then once they have the replies of the ladies who are interested, they will also be translated and sent to you for FREE! In your introduction letter don't forget to mention your marital status, age, country of residence, hobbies, interests etc.
Step 2: Communication with the ladies who have replied to your introduction letter
The agency is offering a wide range of communication services, among them unlimited correspondence subscription plans and single letters, telephone conversations and video chatting, getting new pictures of the ladies and sending flowers or gifts. When you send a gift to a lady she will be photographed with the gift and the pictures will be sent to you. Those and other communication services are giving men a chance to learn more about the women they are talking to. Some of the ladies speak very good English, but most require letters to be translated into Russian, this task is completed by Michael and Darya Mordinson who are both professional interpreters with lots of experience in English and German languages.
Let me cite a former Mordinson client who married a Ukrainian woman: "…Personal meeting part is perhaps the most important part of the your journey. First of all you MUST meet your lady in person before she can receive a visa to the USA. If you do not plan on taking the trip please don't start this process. These women are beautiful and smart. They want a man of action. Not someone who just writes sweet letters for years. I think you should plan your trip for about 2 to 3 months after you start writing. Letters only do so much good and it is time to jump on a plane."
Meeting in person is a vital moment of the relationship and Mordinson makes that moment very enjoyable. Before coming over you are to provide the agency with the list of the ladies who you are interested in and the schedule of your meetings will be composed in prior to your visit.
The agency organizes the initial meetings to be rather short and so you will be able to meet all the ladies you are interested within few first days of your stay and then concentrate on the lady of ladies who you had best mutual chemistry with. Mordinson agency doesn't limit the number of ladies you can meet, it can be 1 or 20 or any other number. When the two decide that they want to spend more time together, they set the time and place while the Mordinson Agency acts like a proud parent and steps back allowing nature to take its course.
There have been many successful marriages from the matched couples. Nick is Australian. He met Evgenia through the Mordinson Agency in January and now they are happily married. Evgenia now lives with her husband in Australia.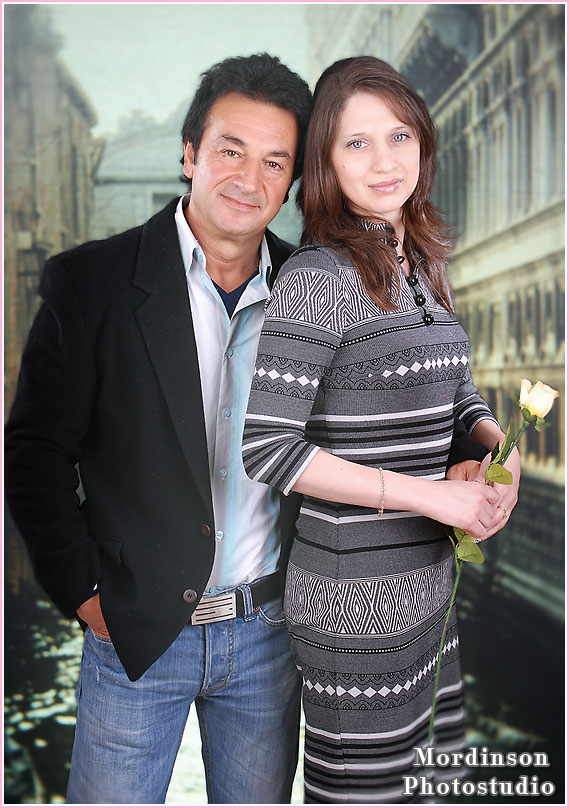 Then there's Yana and Tim. Tim is American, he met Yana in 2018. He and Yana tied the knot later that same year.
Yet another success story is the union of Marina and Dirk. Dirk is from Germany. Dirk noted that all the ladies he met through the agency were all marriage minded women. Each had great promise but he fell in love with Marina and that was it. Now they are happily married, thanks to the family owned business of the Mordinson Agency.
Again this Ukrainian women marriage agency is focused on helping the right people come together in a union that will last a lifetime. They've had many success stories and probably will have many more. Because they care about making good matches with good people, the couples they have matched have had success. This is not a trend but a plan that the family strives to continue one couple at a time.
You will find more testimonials on the web site of the agency, but some Mordinson former clients post their trip reports elsewhere, for example here's a trip report of "Idaho1" who shared his experience with Mordinson on one of the Russian Ukrainian women forums, to read the report click here: www.mordinson.com/mordinson-discussion-ruadventures.html
You need to discover superb overseas girls and feature an thrilling global courting adventure, however you do not know in which to start. Don't worry, we can help you!
☝️ Ask Krystyna
About the blogger:
Krystyna is an acclaimed international dating expert, blogger, and founder of Ukrainian Dating Blog. 
She has published over 1000 articles on international dating in English and German. She likes to focus on cross-cultural relationships, common or trending dating issues, and romance scams. 
The most popular Eastern European brides