Online dating seems to be the way to meet your soulmate, at least if you look at the statistics.
Nearly 324 million people all over the world used dating apps and platforms in 2021, and more than 50% of Americans believe that a relationship that starts on one of these platforms can be just as successful as having met your partner in traditional ways.
Rosebrides.com is one of the many international online dating sites. They claim to "offer the best value" in online dating.
Before you just go click and sign up, read my detailed review of RoseBrides so you know whether you can trust the site, whether it is good value for money, and whether you actually stand a chance to meet up with the lady of your dreams. 
Reasons Why You Can Trust Krystyna
As you may already know, Rosebrides.com is an international online dating website. Signing up and creating a profile lets you meet potential love matches. Your new love can be from Russia, Ukraine, Belarus, Asia, Central and South American countries, and others.  
The site states they have more than 56,000 active members from 157+ countries.
Rose Brides uses the terms "mail order brides" and "brides" on their site. Why is anyone's guess since the company clearly states that while you can enter your ideal match criteria, you can't just click "order" to bring the love of your life home. You actually need to date and woo the person you are interested in.  
The website is available in English, Russian, Spanish, Chinese, Portuguese, Polish, Thai, and Indonesian so if your native language is one of these, you can feel more comfortable using the dating tool.
Rosebrides.com is a service provided by Technet UAB, which is an adult entertainment store, seemingly called Romantika.It, in Lithuania. But if you visit the website and search for Rose Brides, there's no results.
Operator has been blacklisted
After taking a closer look at all the features, external customer reviews, reputation and costs of this dating site, we came to conclusion that the operator does not offer untrustworthy services. It's unlikely you'll find any real dates here.
How to Sign up at Rosebrides.com?
Signing up at Rosebrides.com is relatively easy, but the website doesn't have the same look and feel as most other online dating platforms, so you may feel lost when you first get to the site.
There's a menu bar at the top; next to "Home," you'll find the "Sign Up" button. When you get to the "Sign-Up for Rose Brides Account" page, you need to fill in your:
Click the reCAPTHCA block and the "I'm at least 18 years old" standard disclaimer. Then click the red "Join Now" button.
How Does Rosebrides.com Exactly Work?
Even before you sign up to Rosebrides.com, you can use the "Search" button in the menu bar or click on the hamburger menu icon (the three horizontal lines) and go to "Quick Search" or further down to "Search."
"Quick Search" lets you add in your gender and the gender of the love match you are looking for, their age range, and from which country you want your soulmate to be from. You can also choose if you want to see photos. Click search, and viola.
"Search" gives you more comprehensive filters: state/province, city, height, weight, hair color, eye color, language, education, religion, marital status, children, personality, interests, activities, favorite food, music, and books.
The Rosebrides.com homepage also gives you New Brides that just joined and the Top Rated Brides.
So use the search filters to find your perfect match – don't just look at their photos, but check out their complete profile. You can "Say Hello," "Send a Message", or "Add to Hotlist."
From there, get to know the person you are interested in and see where it takes you. 
Quality of Women's Profiles at Rosebrides.com
There are thousands of profiles at Rosebrides.com. Just a general search revealed that there 1,288 pages of results with about 26,000 profiles.
When you look at the search results page, you see a photo of the lady, her member ID, name, age, and where she is from.
Clicking on a profile (and interestingly, you don't need to be registered or logged into the site to see profiles), you get a lot more information about the person:
The profiles are quite detailed, and while there are magazine-worthy professional photos of the ladies, there are also more natural photos (even with filters on). 
Memberships and Costs at Rosebrides.com
Only signing up, searching and browsing, and saying hi are free.
If you want to get in touch with your lady love and message her, you need to sign up for the Premium membership. Paying a monthly fee ensures you have access and control over your profile's privacy settings and you can add custom information to your chats.
A 1-month Premium membership will cost you US$49/month. If you opt for the 3-month or 6-month membership plans, you get a discount.
A 3-month membership will cost you US$90 in total (and you'll be billed the total at once), which works out to US$30/month (a saving of US$19/month compared to the 1-month option). And a 6-month membership is a total of US$150, working out to only US$25/month.
Considering the extra features you get for Premium, Rosebrides.com is pricey.
(Look at my other recommendations and you can see for yourself what I mean here.)
Customer Support Options at Rosebrides.com
To get in touch with Rosebrides.com, you can email them at support at rosebrides.com or submit a ticket on their Contact Us page.
When logging a ticket, sign into your profile first so your membership information can be automatically populated. This also let's admin at Rosebrides.com know you are a legit site member.
Poor Reviews at Trustpilot
People who've used Rosebrides.com can review the service and share what their experience was on Trustpilot.
There are only 45 reviews of Rosebrides.com, which is odd since the company has been around since 2006/2007. The reviews are rated "poor" with only 2.5 stars, so it seems Rosebrides.com users have an equal mix of good and bad experiences.
27% of users rated the online dating service as excellent, and 62% rated it as bad.
The bad reviews highlight how many scam artists there are on the site, how it's all fake, how accounts got suspended for seemingly no reason, and how they asked for a copy of your passport or government ID. Plus, your profile is public so anyone can find you on the site – whether or not they are a registered member of Rose Brides.
The "excellent" reviews rave about the site, with one of the newest reviews reporting that the guy got lucky and is busy organizing a K1 visa for his Peruvian fiance.
Our Verdict: NOT Recommended
Taking everything into account, I wouldn't recommend Rosebrides.com. There are just too many aspects that seem fishy – the unregistered company, the too few reviews that go back as far as 2015 (so 45 reviews in 7 years?), and the cost of a Premium membership (and you get very, very little extra compared to using the site for free).
TOP 3 Alternatives to Rosebrides.com
Here are 3 alternatives to Rosebrides.com you can try. At least these sites are legit, they offer value for money, and doesn't look like a wolf in pretty sheep's clothing:
Loveme (A Foreign Affair)
On Loveme.com, you can sign up, search and browse the ladies' profiles, create your profile, get matched, and access your inbox for free.
Then, you can decide if you want to pay the normal fee for certain services like a translated phone call, or join the Platinum membership and pay less for these services.
Joining the Platinum membership will cost you a one-off US$95 and then you'll pay US$29.95 every month. Alternatively, join the Executive plan for tailored matchmaking services so you can find your true love.
What We Like about Loveme.com
Another good option if you are looking to find love online is behappy2day.com. You can find a Russian, Ukrainian, Latin American, or Asian match here (read our review: BeHappy2Day Review 2023: Scam or legit?).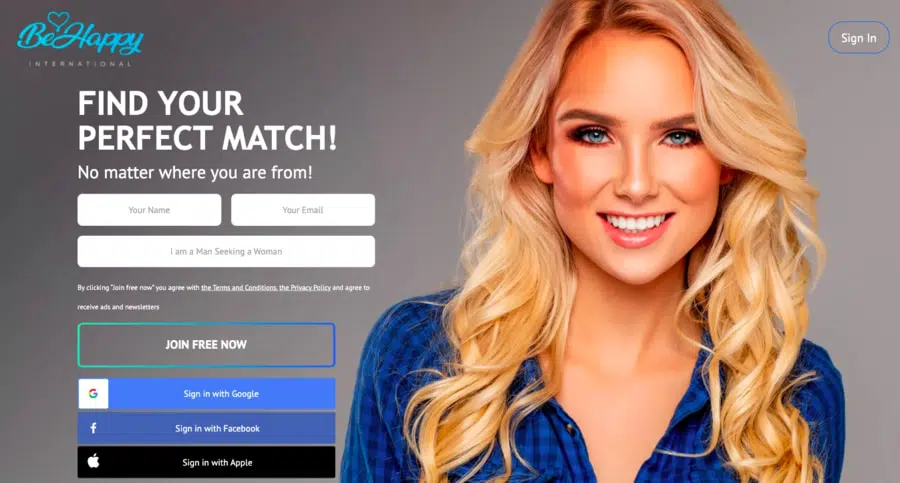 Behappy2day.com Top Services
On Behappy2day.com, you can sign up, set up your profile, view other members' profiles, and get dating advice for free.
If you want to contact your lady love, you need to buy credits. A bundle of 20 credits costs US$14.99, and 1,000 credits cost US$379.
If you want to send a gift, it'll be 15 credits, 1-way video chat is 2 credits/minute, live chat is 1 credit/minute, and sending a letter is 10 credits. There are other services too!
What We Like about Behappy2day.com
For cute ladies – since the site vets them – Cuteonly.com is a great option. On Trustpilot, the service has nearly 70% excellent and great reviews combined (read our review: CuteOnly.com Review 2023: Fake or Legit?).
Cuteonly.com Top Services
Cuteonly.com lets you sign up, create a profile, and browse for free. If you want your soulmate's contact details, you need to sign up for a membership, which is US$29.99/month. However, opting for a 3-month or 6-month membership means you get a discount and you pay less.
What We Like about Cuteonly.com
Review was last revised on June 8, 2023
You need to discover superb overseas girls and feature an thrilling global courting adventure, however you do not know in which to start. Don't worry, we can help you!
☝️ Ask Krystyna
About the blogger:
Krystyna is an acclaimed international dating expert, blogger, and founder of Ukrainian Dating Blog. 
She has published over 1000 articles on international dating in English and German. She likes to focus on cross-cultural relationships, common or trending dating issues, and romance scams.