Dear friends,
The dating scene has changed a lot since the introduction of online dating sites and apps. These platforms have been quite beneficial, especially for people looking for international relationships.
This post covers the best dating sites to help you find love in 2023.
Let's start!
TOP 5 dating sites and apps to find love online
Nowadays, you do not have to leave your house or travel to find love. The internet features hundreds of websites and mobile apps that will help you find love. The only challenge is finding the best legit platforms that you can use to find love. The challenge is that you have to put in a lot of effort when comparing the available options.
The following are the top 5 dating sites and apps you can use to find love.
Loveme.com - for singles looking for a foreign bride
Loveme.com is also an incredible online dating site whose primary goal is to assist men and women find compatible partners or matches from different parts of the world. The platform features women from Asia, South America, and the Eastern region of Europe.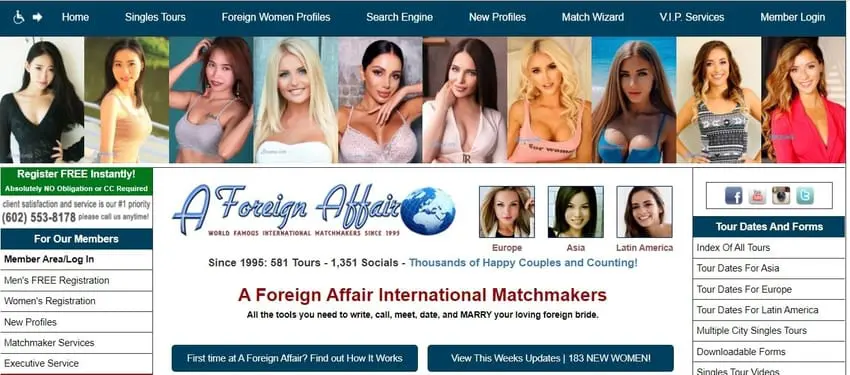 Loveme.com features more than 80000 visitors per month and has helped thousands of people find their lifelong partners and other meaningful relationships.
Note that Loveme.com is also known as a foreign bride platform. The platform features a wide range of incredible features and a user-friendly interface.
Loveme / A Foreign Affair Services
Below are some top services provided by Loveme.com
Loveme / A Foreign Affair Costs
The platinum membership on Loveme.com costs 95 USD for the first month and 29.95 USD every next month.
Note that additional features like sending gifts and flowers, as well as the interpretation services cost extra as they are not covered in the membership plan. The platform also features a free membership plan with limited features.
Did you know?
Loveme.com is one of the oldest International online dating platforms that was established two and a half decades ago.
InternationalCupid.com - for singles looking for an international partner
InternationalCupid.com is an amazing and legit online dating platform for singles looking for foreign partners. One of the best things about the platform is that it has a strong network behind it (the Cupid Network).
This is also one of the primary reasons why it is one of the most popular international dating platforms in existence. The platform features over a million international users from Russia. Asia, Latin America, Europe, and Africa.
It also features a pleasant aesthetic and a user-friendly interface. 
InternationalCupid.com also comes with a mobile app.
InternationalCupid Services
InternationalCupid.com features the following incredible features:
InternationalCupid Cost
The cost of using InternationalCupid.com differs depending on the membership plan. The gold membership plan on InternationalCupid.com costs 29.98 USD per month, 59.99 USD for three months, and 119.98 USD per year.
The Platinum membership costs 34.99 USD per month, 69.98 USD quarterly, and 149.99 USD annually.
Interesting to know
InternationalCupid.com was established to break down the barrier of nationality when it comes to dating and forming romantic relationships. The platform also seeks to establish itself as a special discovery network with a singular purpose, which is to match men and women who are socially and mentally compatible.
eHarmony - For singles looking for a serious relationship
eHarmony is one of the best dating platforms for people looking to get into serious relationships. It was established by an accomplished clinical psychologist with experience in couples counselling. The platform features one of the best matching systems, which is patented in the United States.
The complicated and incredible matching system is one of the reasons why the platform boasts one of the highest success rates for international relationships over several years. eHarmony also features an easy signup or registration process which uses a questionnaire asking for basic information like location, age, gender, and preferences.
eHarmony Services
The following are some incredible services available on eHarmony:
eHarmony Cost
eHarmony features a free basic membership which offers limited features. It also features monthly, quarterly, and annual plans which cost 59.95, 119.85, and 179.70 USD respectively.
The longer the period of your plan, the lesser amount of money you pay. The paid plans allow you to access all the best features offered by the platform.
Facebook Dating - for singles looking to find love through social media
Facebook Dating is a mobile dating app established by Facebook, the social media platform. It was established in 2019 and has been going through a lot of improvements over the years.
This means that the mobile app is still a work in progress. For instance, the mobile app is currently not desktop-compatible.
Facebook Dating Services
Facebook Dating features some unique services. Some of the top ones are:
Facebook Dating Cost
The primary thing that makes Facebook Dating different from other dating platforms is the fact that it is completely free.
This means that it does not charge any money for its features and does not feature any hidden charges. However, there is a catch, which is that you have to allow Facebook to use your data.
Random facts you won't believe are true
Despite the link between Facebook Dating and the Facebook social media platform, the dating app does not air any information from your dating profile on the social platform.
You can use the Facebook Dating app without any of your Facebook friends or connections knowing about it
Muslima.com - for Muslim singles to find their match online
Muslima.com is an incredible dating platform specially designed to help men and women of the Muslim religion to find love and companionship. The primary focus of the online dating platform is to help build long-term meaningful and lasting relationships.
Therefore, it is the perfect destination for Muslim singles looking for life partners. Note that Muslima.com is part of the Cupid Media Network featuring more than thirty niche dating platforms.
This makes it a trusted online dating platforms and one of the most popular ones for Muslim dating.
Muslima.com Services
Muslima.com offers a wide range of fantastic features that complement its substantial user base. Below are some of these services:
Muslima.com Cost
This platform costs around 11.67 USD per month on a basic plan. The gold plan costs between 34.99 to 139.99 USD depending on the length of the plan. On the other hand, the Platinum membership plan costs between 39.99 to 159.99 USD.
When selecting the best dating site to help you find love in 2023, it would help to consider the basic features, pros, and cons of each of the sites listed above. It would also be wise to consider your needs.
Last Updated on June 01, 2023
You need to discover superb overseas girls and feature an thrilling global courting adventure, however you do not know in which to start. Don't worry, we can help you!
☝️ Ask Krystyna
About the blogger:
Krystyna is an acclaimed international dating expert, blogger, and founder of Ukrainian Dating Blog. 
She has published over 1000 articles on international dating in English and German. She likes to focus on cross-cultural relationships, common or trending dating issues, and romance scams. 
The most popular Eastern European brides