Dear friends,
If you are attracted to Russian women and want to find your Russian soulmate, you may not be sure where to start your journey. There's the option of flying to Russia, but it's a humongous country – so that's a no. 
There's the option of joining a dating site and finding your true love this way. But which dating sites are legit? 
I am pretty sure that you have heard a lot of things about VKontakte.ru (VK.com) and are wondering if it is possible to use this social network for looking a Ukrainian or Russian mail order bride. And then there's VKontakte and its dating app, called Lovina. Is this a good way to meet the Russian woman of your dreams? 
Let's find out what Vkontakte is, whether it's a good platform for Western men to meet and chat with Russian women, and what are the best alternatives.
Reasons Why You Can Trust Krystyna
What is VKontakte (VK.com)?
Before we discuss tips how to use VKontakte.ru for looking for a match from Ukraine, I would like to explain some essential things about this site.a
VKontakte, or VK, was founded in 2006/2007 by the parent organization Mail.ru Group. VK is a Russian online social media and social networking platform that has its headquarters in Saint Petersburg.
While VK is available in multiple languages (86, in fact), it's Russian speakers who mostly use this social media site. The company's mission is to connect people, companies, and services via convenient and easy-to-use communication tools.
VKontakte currently boasts 97 million active monthly users, 15 billion messages that are exchanged a day, and 1 billion daily likes.
Like other social networks, VK has various features like:
VK is available on iOS and Android smart devices, and there's a desktop app too. 
VK.com is not a dating site
That means not every woman registered on this site has intentions to find a Western man and move to another country. Thus you need really tons of time to find a Ukrainian woman who is willing to start a communication with a foreigner and is not against cross-cultural relationships.
Consequently, the "no reply" rate is really very high
But do not despair!!!  If you show endurance and patience, you will surely find your destiny there.
Language barriers may be another huge disadvantage of using Vkontakte.ru
Not every girl on VK can speak a foreign language. Furthermore, not every girl on VK can speak English, although this language is a lingua franca over the world. Not every girl on VK wants to communicate in a foreign language although she can speak it.
Looking for a legit dating site? Check my reviews here:
VKontakte Launched Its Own Dating App Called Lovina
In 2019, VK launched Lovina, a free, experimental dating app that's based on quick-fire videos. Users on Lovina can video chat with other members who liked their profile. On this dating app, there's also a speed dating model where users can do limited video chats in a "carousel" manner with random Lovina members.
The reason VKontakte went for a more video-centric dating app is because the creators believe that video resembles real life. You can communicate with someone else in real time and see them for real.  
The catch is that users need to have a live video chat or engage in a video story with other Lovina users. If they don't, their chatroom is deleted within 48 hours. Lovina also offers matchmaking services, where they guide you and match you up with a Russian lady who seems to be perfect for you.
In November 2021, VK launched VK Dating, but the service was paused after about a month when users complained that their profiles were automatically added. 
Can Western men use VKontakte.ru to find a Russian woman?
VK isn't really well known outside of Russia and Eastern Europe. So maybe the question is also about whether Western men would know about VKontakte.ru to connect with women in Russia.
If a Western man did think about using VK to find and date their Russian lover, the social media and networking tool isn't completely in English. Plus, finding the function to change the language settings may take you a while if you don't know any Russian. Or, you may not be able to find the "change language" setting and could give up at some stage.
There's also the question of the language barrier if you – as a Western man – want to communicate with a Russian lady. Sure, you can use Google Translate, but chances that your message, intention, and more will be lost in translation is big.
Russian women will also experience the same language challenge if they are interested in you. You can probably opt to use a legit translation service to help out with the communication issues, but this is a costly service (and one that's often included – with a reduced or more attractive fee – on other online dating sites). 
So yeah, if you know about VK, you can probably use VKontakte.ru to find and connect with your Russian soulmate. Your chances of success are doubtful, however.
Minuses of using VKontakte as a dating app
There are quite a few cons to using VK as a dating app. I touched on some of these above, but let's look at the others too.
How to find a Russian bride at VK.com - Guide by Krystyna
Step-by-step VK guide to find a Russian, Ukrainian or Belarussian mail order bride:
Using VK.com as a Russian dating app - 4 things to remember
Be aware of scammers at VK.com
Surely, you know this awful feeling, namely: your communication with a Ukrainian woman on a dating site is going perfect but you have still doubts because in your opinion, everything is too perfect and you are scared to get scammed.
You can find this woman on VK.com and write to her a greeting message how you are happy to find her there. If the woman does not respond you and claims that she does not know you, your doubts were not in vain.
Don't forget being careful! From my personal experience, I can say you that there are no professional dating scammers like on International dating sites; nonetheless, this statement does not mean that you will not become a victim of fraud.
Important
Some girls may think that it could be really nice and not bad to ask the Western man for money (you know – Internet fees, debts, credits, etc.). My simple but wise advice is not to send money to the woman you have never met in person.
Our verdict: VKontakte is NOT a good and effective way to find a Russian woman
The best advice I can give you is to not use VK as a method to find your Russian soulmate.
Frankly, there are proper dating sites you can use instead. On these dating platforms, the Russian ladies are there to find a foreign or Western boyfriend, so your odds of meeting and truly connecting with someone skyrockets.
TOP 3 Alternatives to VKontakte
So what are the best 3 dating sites you can use to find your Russian true love?
Loveme.com / A Foreign Affair
Loveme.com is an online dating service for serious daters.
What I mean here is that Loveme.com isn't for those who are looking to casually date. All the services Loveme.com offers help you foster a serious relationship with the person you are interested in.
Top dating and matchmaking services at Loveme.com are as follows:
On Loveme.com, you can register, create a profile, search and browse, get matched, and access your inbox for free.
Then you can pay for certain services like a translated phone call. There are different rates for these services – you pay more if you aren't a Platinum member. To become a Platinum member and access services at a discount, you'll depart with US$95 (a once-off fee) and US$29.95 (a monthly membership fee).
Loveme.com also offers an Executive Plan, which is an extensive personalized service to help you find your Russian (or other nationality) soulmate.
What We Like About Loveme.com
Are you intrigued by the services that Loveme.com offers? Lucky for you, I've looked at the site in detail, and more information can be found on my full review of Loveme.com.
BeHappy2Day.com was created in 2004, and it's a modern-looking website to meet your Russian dating needs.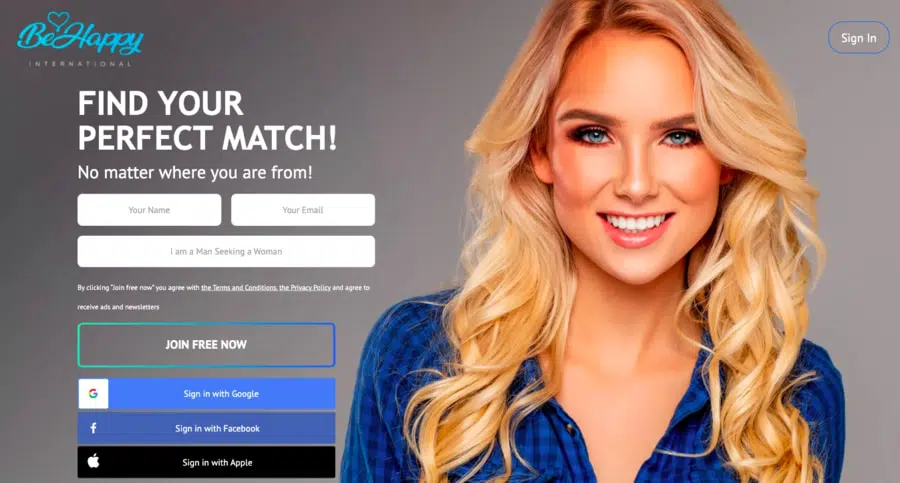 Top dating and matchmaking services at BeHappy2Day.com are as follows:
Only signing up and browsing on BeHappy2Day.com is free.
Then you need to buy credits to use the other services the dating site offers. You can buy credits in bundles, and the biggest bundle of 1,000 credits costs US$379. The smallest bundle of 20 credits is US$14.99.
Each service has a different quantity of credits attached to its use. For example, reading or sending a letter is 10 credits, while live chatting with your Russian lady is 1 credit per minute.
What We Like About BeHappy2Day.com
Launched in 2005, Cuteonly.com is another online dating service you can use to find the Russian woman of your dreams (see also: Dating Russian Brides: How to Meet & Date Russian Women). The site is very particular – they prefer to only have "cute" women join, so you at least know there'll be someone (and lots of them) cute and pretty on the site.
Top dating and matchmaking services at CuteOnly.com are as follows:
Sign up, profile creation, and browsing is free on Cuteonly.com.
To contact the woman you are interested in, you need to pay a subscription fee, which is US$29.99 for a month. However, there's a discount if you sign up and pay for the 3- or 6-month subscription fee.
What We Like About Cuteonly.com
In conclusion, DarkMatter tells about his VKontakte.ru experience:
Hi all!  
I decided to try VKontakte.ru a few days ago. It looks exactly like facebook, however, one of the things I noticed some people actually post porn pictures.   Facebook does not allow that. I practically copy and pasted my information from facebook onto this website.
I joined all the *English Speaking* groups to see if I can actually meet some people, and whats funny is I got some people from various parts of the FSU, heck even Africa wanting to talk to me. I put them on my friends list and the fun began.
I had one girl named Darya from Серпухов start talking to me. She started asking me questions on my background and other aspects on my life. We started corresponding for the last couple days, and she asks me if she wanted to speak to me on skype.  
I agree, and this past morning I spoke to her on skype for over an hour telling me her dreams and what she wants to do in life, and I also tell her mine as well. What's funny is she would say cute phrases like, "Is my English ok Joshua?" or "Yes yes Joshua I understand that very well." or "Can you understand my accent?"   One thing I notice she seems really mature, and well informed.
She tells me she has read various books from Gone with the Wind, Great Gatsby, etc. I had to redirect the topic at certain times because I had no answer, and I didn't want to look stupid.  As of right now, I'm not going to jump the gun and try to get into a relationship, however, this is a great start. She didn't ask me if I had a girlfriend and I didn't ask her if she had a boyfriend, as time passes I'll ask.
At the same time, I have another girl from Kazakhstan trying also talk to me. We'll see how that happens.
I've noticed this website mainly caters to people under 27, which is fine because I'm in this age category!  
Some of the people actually post their phone numbers AND their addresses. Too bad I can't read them, wait scratch that, I can read it, but I don't understand it!  
We'll see how this progresses!  8)
You need to discover superb overseas girls and feature an thrilling global courting adventure, however you do not know in which to start. Don't worry, we can help you!
☝️ Ask Krystyna
About the blogger:
Krystyna is an acclaimed international dating expert, blogger, and founder of Ukrainian Dating Blog. 
She has published over 1000 articles on international dating in English and German. She likes to focus on cross-cultural relationships, common or trending dating issues, and romance scams.